If we could describe cities in colors Stepanavan would probably be Emerald Green, the shade that you won't see anywhere in Armenia. The city is located in the gorge of the Dzoraget River, with mild snowy winters and sweet summers. Centuries-old history and the fantastic nature of Stepanavan will become your next best thing in Lori Province.
Stepanavan is located 40 km north of Lori province center Vanadzor.
Top Destinations in Stepanavan
Stepanavan was a famous resort town since Soviet times as a mountain region with clear fresh air, lush forests, and favorable weather. If you are planning a trip to Steapavan, make sure to spare at least three days on tour to see historical sights, fortresses, churches, natural attractions like caves and lakes.
Things to do in Stepanavan
Stepanavan. Stepanavan is a perfect resort town for its beautiful nature and pleasant weather all year round. The city is surrounded by alpine meadows and forests, ideal for hiking and camping. It has a relatively developed tourist infrastructure; it means you can easily navigate, have fun and find accommodation.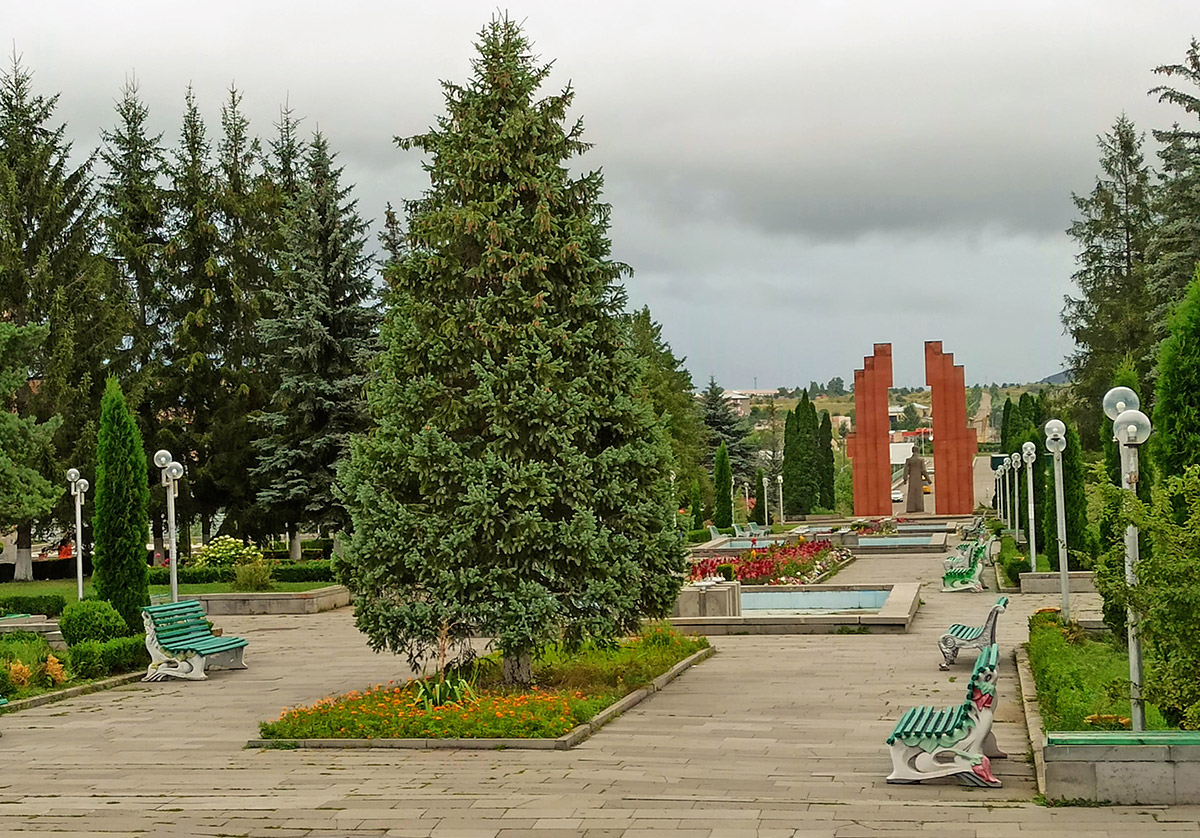 Start exploring Stepanavan and neighboring places from the "Majori Dzor" cave with incredible nature and a small waterfall. The narrow path that passes by the cliffs leads to "Majori Dzor." There are huge rocks on the left side of the small alley with carvings. Dzoraget gorge, with all its charm, is on the right side.
Lori Berd (Lori Fortress). The walls of Lori Berd protected Lori city since 1005 with a citadel and suburbs. The town was invaded several times and finally was abandoned by the citizens and turned into a regular fortress. Today it is a valuable historical heritage of the region and Armenia.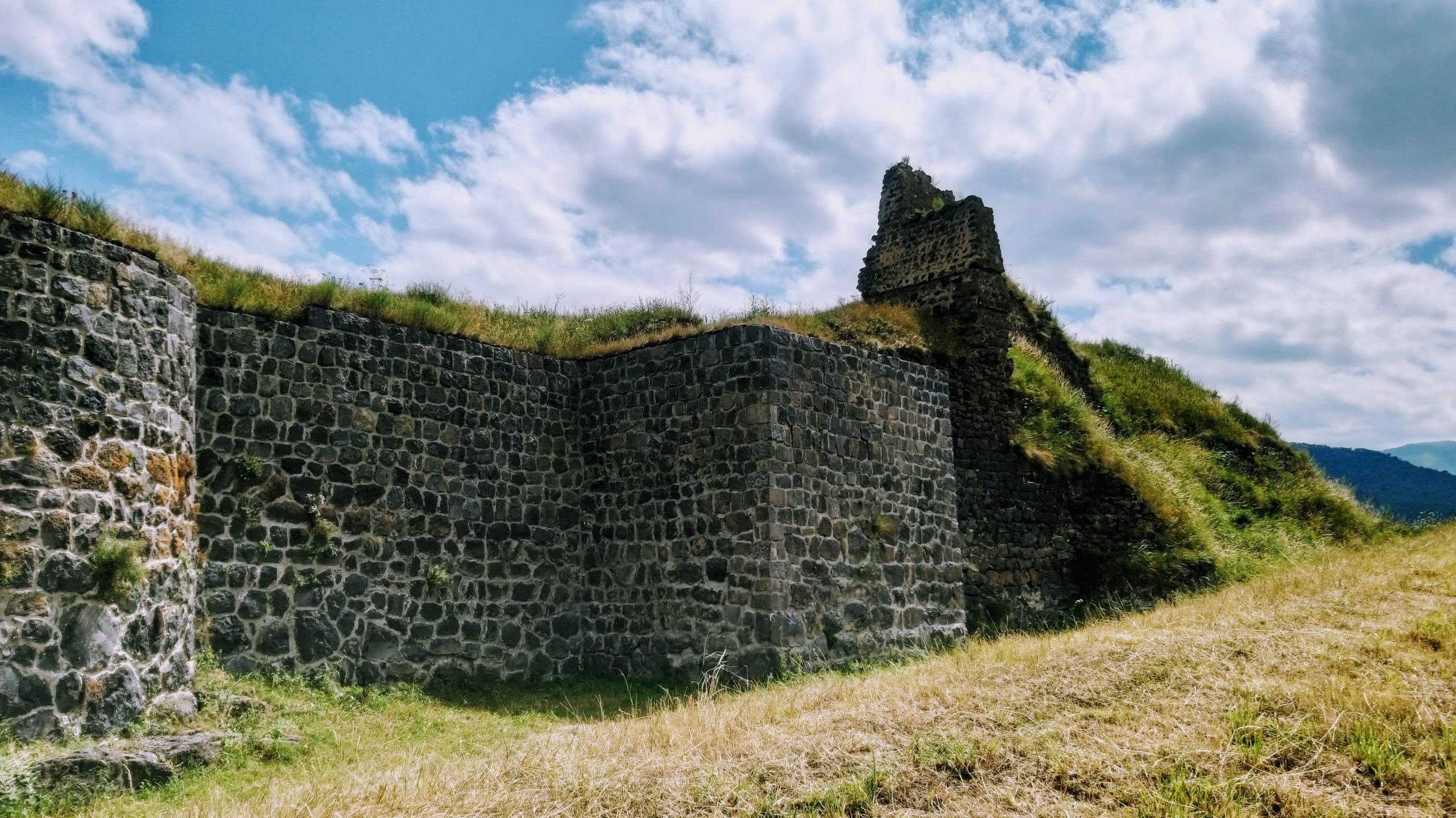 When visiting Lori Berd, you will see the 11th-12th centuries' two bathhouses, basalt cross-stones, and the magnificent view from the fortress walls to the gorge.
If you have time, make a short visit to Urut River arched bridge ideally blended into nature.
Urasar Water Lily Lake. The unique water lilies found only in Lori among Caucasian countries and territories are true magic you would not want to miss. The small charming lake is located in Usasar village. During summer, the lake covers all in blooming lilies, turning the green lake into a white spot. If you are lucky, you will be alone to enjoy the view in silence.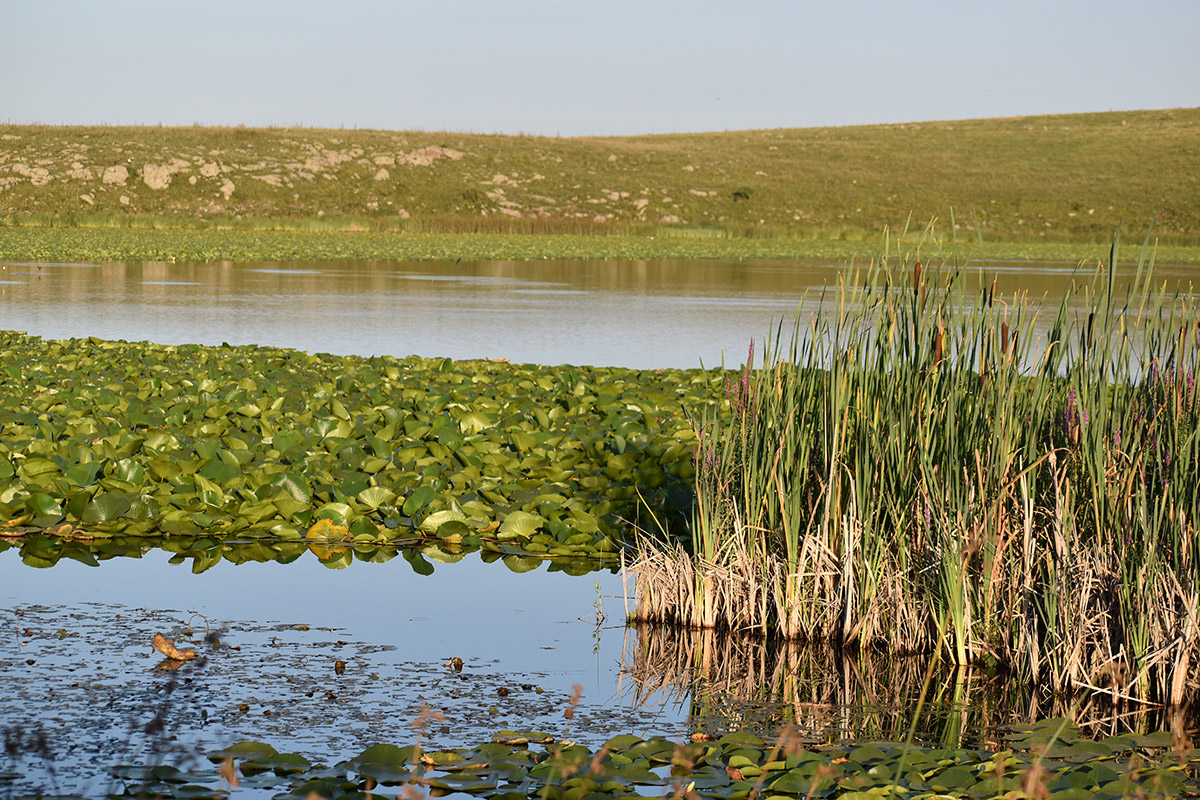 St. Nicholas the Wonderworker Church in Amrakits. St. Nicholas the Wonderworker Church is unique and the only Orthodox Church in the Lori region. The village of Amrakits was founded by Slavic families who had moved from Borjomi. It has become a popular tourist destination even though the church is closed and the construction is shabby. It still looks impressive and authentic to admire and has an interesting thematic photoshoot.
Gyulagarak & Sochut arboretum. Sochut Dendropark is the most visited natural attraction in the Lori region. It is a protected area covering about 35 hectares of territory located 10 km from Stepanavan. There are a vast number of rare trees and shrubs brought worldwide. You will have e beautiful walk about the alley of sequoias, walnut, birch, fir, and other exotic trees. The best time to enjoy the park's beauty is from July to November, but you can always visit the park to walk about the snowy trails of the forest.
No Internet Chrome Dino Statue in Stepanavan Dendropark

By the way, there is a unique statue on the way to Gyulagarak Sochut dendropark – the statue of the famous dinosaur "No internet". Be sure to have a photo with the dinosaur, as there is no such thing anywhere in the world 🙂
Find more about Chrome Dinozaur statue »
Kurtan, Hnevank & Arevatsag Gorge. This part of Lori is not so popular among tourists; it means you have a chance to enjoy the beautiful nature and architectural treasures without crowds of tourists and noise. The first stop is Kurtan gorge and the 5th-century St. Astvatsatsin church. The early medieval architecture drastically differs from medieval churches you have probably seen before.
You can witness more impressive views traveling to the Hnevank monastery consisting of three churches, a courtyard, and auxiliary buildings. Many of them are now in ruins, but even in ruins, the monastery merges with nature and creates harmony around you, still keeping its majesty.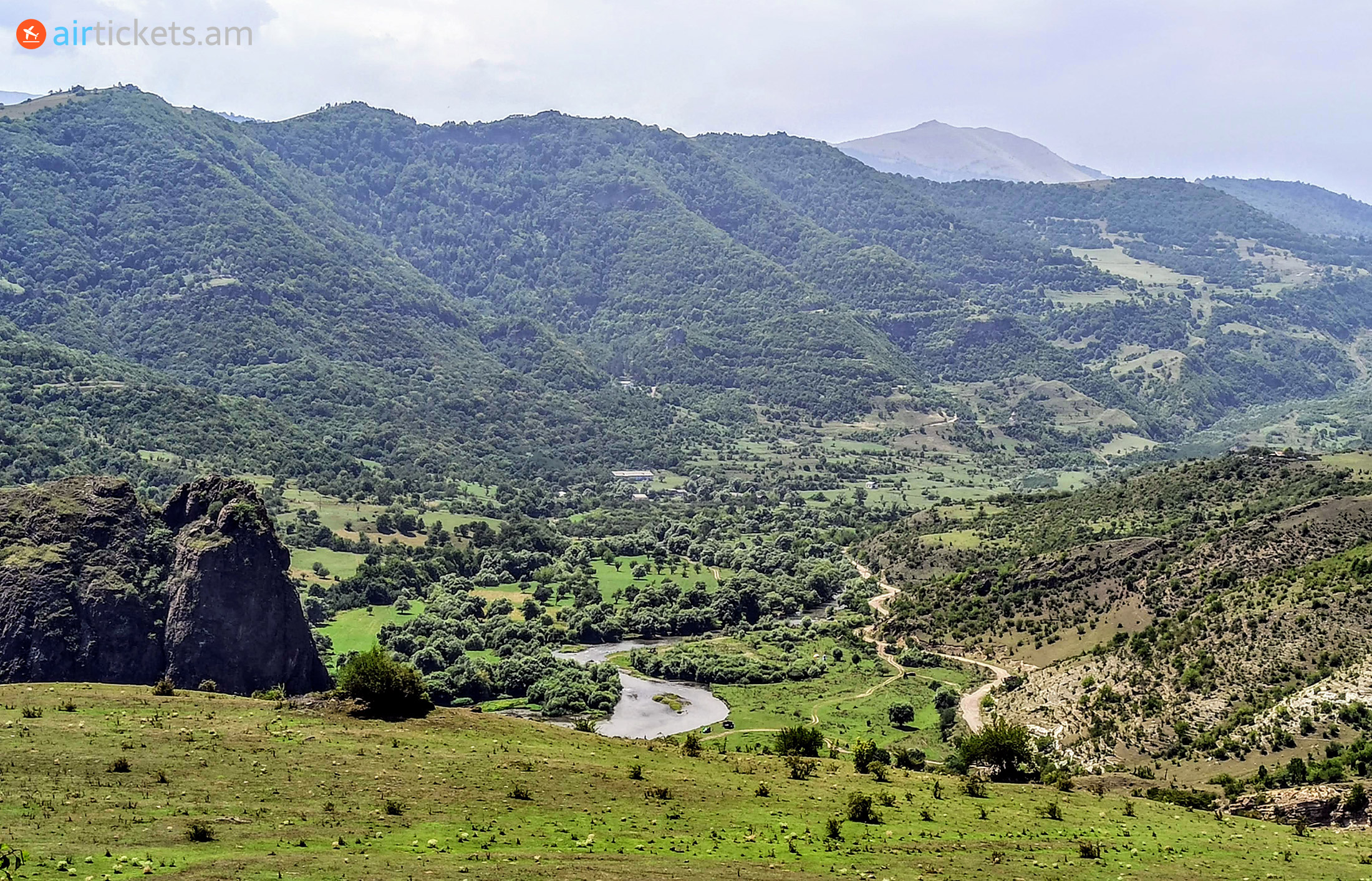 Last but not least destination you are heading to is Arevatsag canyon, the new best place in Lori. This exotic place can be reached only on off-road cars or hiking. When you finally get to the spot, you will see a green valley opening to your eyes with a mountain river and an unimaginable huge rock Tsits Kar. Behind the rock, the lush mountain forest continues spreading its wings. Why Arevatsag (sunrise)? It is said that the sunrises here are unreal in beauty.
Accommodation and leisure in Stepanavan
Though there are no 5 or 4-star huge hotels in Stepanavan or nearby, the accommodation infrastructure is still quite developed.
___
Cozy guest houses will make you feel at home and enjoy traditional Armenian hospitality like nowhere before. From available options, you can consider Ruzanna's B&B with the tastiest homemade breakfasts, Hnameni Stepanavan Guesthouse with a lovely garden, hammock, and open terrace to enjoy warm nights.
___
If you are looking for luxury and comfort, think of Tufenkian Avan Dzoraget Hotel in Dzoraget village on the bank of the river with some of the most authentic interior and luxe amenities. Grig House Eco Resort is a no less popular place in Gyulagarak with ethnic motifs and a beautiful garden.
___
Stepanavan and neighboring villages have nothing but pure nature and mountains like other small resort towns. Seek places of interest in nature, in the forests and mountains.
Things not to miss in Stepanavan
Lori should be enjoyed thoroughly and not by car but on foot or horse riding. Feel the smell of wet ground and lush green going deeper in the woods, scream your lungs outstanding on the cliff of the canyon, and listen to your echo. Don't miss out on the precious moments of the synergy of your soul and nature.
Local Food & Drinks
Lori is the land of cheese. Alpine meadows give quality milk and extra-tasty dairy products, so try all the types of cheese with wine, olives, nuts, and honey. Also, have specific traditional khavits for breakfast that look like cereal, but it's not. The rest of the traditional dishes can be tasted in Carahunge Stepanavan restaurant with a wooden interior and warm atmosphere.
(Visited 87 times, 1 visits today)